Creating Your Email Marketing Strategy
So, you have signed up for a HandySends account. Great job! Now, what's next?
Being able to effectively reach customers isn't just about the software. If you don't have a plan for reaching your customer and understand your end goal, your email marketing plan may not be successful. Let's look at a few ways that you can plan out an effective marketing strategy.
Make your goals real and measurable
If you don't know where you're going, it will be hard to craft a strategy that works. Is your goal to sell more products, generate more leads, provide better support for existing customers?
Once you have identified the goals of your campaign is, you can target your email strategy accordingly. Here are just a few examples of goals that you might choose to include:
Increase newsletter subscribers to 1000 by the end of 2020
Increase open rates by 20%
Generate 10 new sales leads per month via a nurture campaign
Remember, the goals for increasing brand awareness might differ from things like generating sales leads, which is why defining goals is a crucial step in the process that is often overlooked. For a more detailed dive into planning out your email campaign, HandySends customers can access SendGrid's 24 Email Marketing Best Practice Tips for 2020 for more strategies for planning out an email program.
Identify your audience
Remember that your email campaign needs to help you reach your end goal. If you're not looking at your audience make-up and planning your email outreach to meet their needs, your campaign won't be effective. Consider some of the following strategies when looking at your audience:
Has the person interacting with your product or service in some fashion already, or is the customer unfamiliar with the product and you are trying to generate interest?
Are you sending to people who are not opening your emails? If the person on your list is not interested, it's best for your reputation to delete that contact and sunset, old users. Remember, when you are targeting people for your campaign, you should not do so from a list that has been purchased. This can hurt your reputation and probably won't give you enough information about the customer to know how to effectively target him or her.
Ask yourself whether your recipients are appropriately targeted and if they should even be on Once you have an idea of who your audience is, catering content and making strategic decisions becomes more intuitive. For example, for those who have made a small purchase, you may want to nurture them with content that convinces them to buy more or upgrade to a premium service. And for those who have downloaded a white paper or case study, you could direct them to additional ones that will push them closer to a purchase.
Create content that is meaningful to your customer
Sending personalized, valuable, and segmented emails is a great way to make sure your recipients want to open your email instead of tossing it in the trash or spam folder. Each email and campaign is a chance to move recipients down the purchasing funnel. For example, when sending a campaign, you might want to create a segment of your contact list to follow up directly with people who have opened an e-mail message in your campaign. You can segment that list from your contacts and then personalize additional content to lead them towards a sale.
You might also want to take advantage of A/B testing and send out different versions of a campaign to see which one is more effective for the groups you are targeting. Email marketing is a mix of art and science and there's no "best way" to achieve your goals–it will just take effort and lots of testing.
Use HandySends' Features to Help Maximize Sending Efficiency
One way to optimize your marketing campaign is to make sure that you are getting the most out of SendGrid's features. Remember that SendGrid includes built-in templates that allow you to quickly and easily create professional email messages. You can also use the HTML editor to import and edit existing templates that you might currently be used in other programs.
One of the easiest ways to minimize your maintenance is to set up automated messages. If you're sending out a mailing list for example, do you send individual messages to your subscribers? You may want to look at using the automation feature to set up an automatic welcome message when people join. You can also set up subsequent follow-up messages using your relevant content. By automating your messages, you will spend less time creating and sending messages, which will allow you to focus on developing your content.
Review and Re-do (if needed)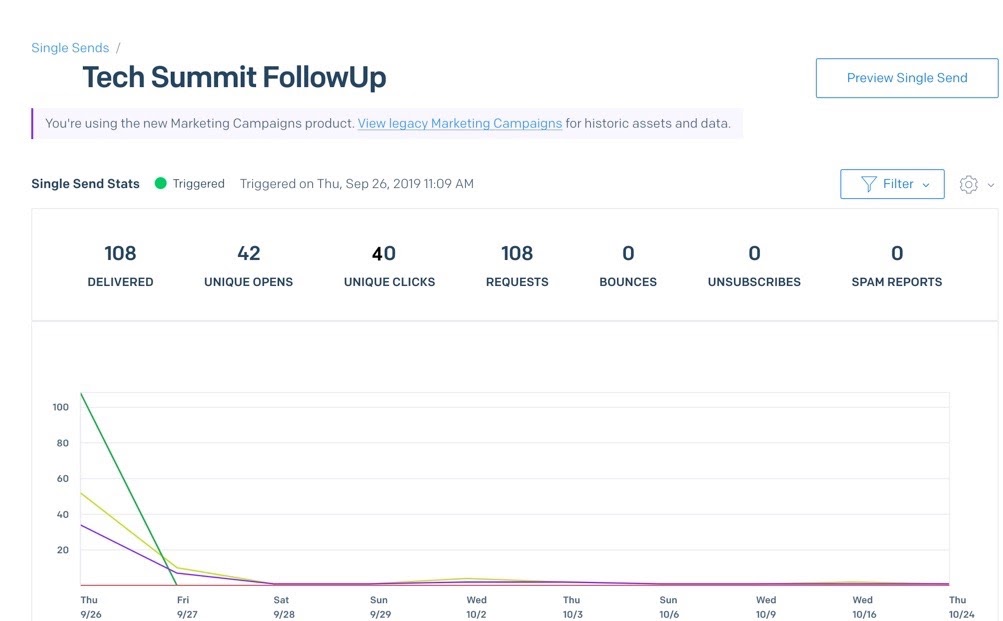 One of the great HandySends features is its analytics. By looking at your delivery and click-through rates, you have an idea of how well your campaign is performing and can make adjustments to get people engaged in what you have to say.