Webinar Advance Email Program – Series 1
March 26, 2021 @ 4:00 pm

-

5:00 pm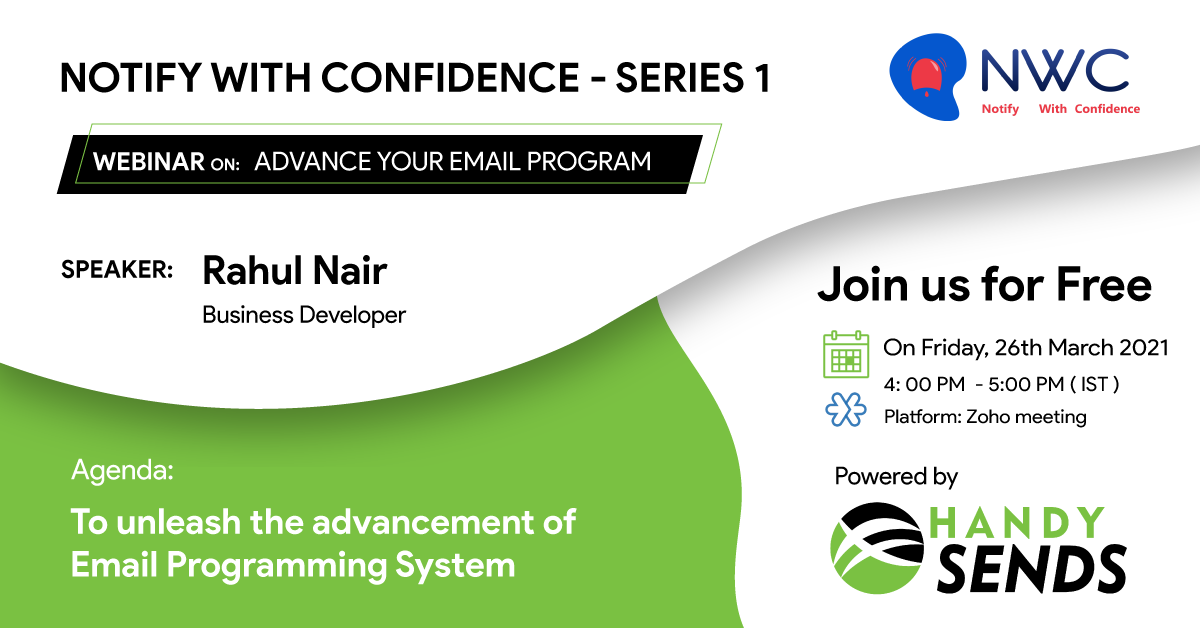 UNLEASH THE PATH-BREAKING FORM OF ADVANCED EMAIL TECHNOLOGY
Emails are always being made of an indestructible form of communication that cannot be cast off. As they serve as a strong tool in binding customers and clients. Advancement in email technology has set standards that are the need for the hour.
It is observed that the emails are the key connections between engaging to onboarding them. Where the usage of emails is 2.5 billion-plus, but the use of emails is expected to grow more rapidly than ever. Triggering the inboxes has been the main concern of every sender. Not just that, making sure that the email is delivered to the authenticated user has been the biggest deal to answer.
In order to overcome all the pitfalls that are surrounded in the form of Hackers, Spammers, Phishing, and many more. We are required to revamp our email system according to the needs in order to fend the cyberpunks.
Let us voice out the new quantum leap of email and drive you into the new era of advancement of email technology through…
Mr. Rahul Nair, who is a Business Developer, is here to simplify the Advance Email Program and elucidate the email system with insights that every business needs to carry out.
About Speaker:
Rahul Nair holds 2+ years of experience in Tech Sales and also has diligent work experience as a reseller for the Twilio SendGrid Platform. Worked for Product & Service based Industry handling Sales & Support. Apart from this, he is also a multi-linguistic person and likes to learn new languages.
Agenda Of The Talk
Why emails are still at the top.
Emails with other Cloud Communication
Are you Getting Good Deliverability on email?
Factors that Influence Deliverability
Engaging your Audience
Key Takeaways from the Event
Importance of Emails
Better Email Deliverability Insights
The Mandatory Best Practices of Emails
How you can Engage Audience
WE PROMISE TO SHARE UNAVOIDABLE KNOWLEDGE 
So Be Sure you Come with Questions & Carry mastered Answers
THE EVENT IS FREE, YOU ARE JUST REQUIRED TO REGISTER